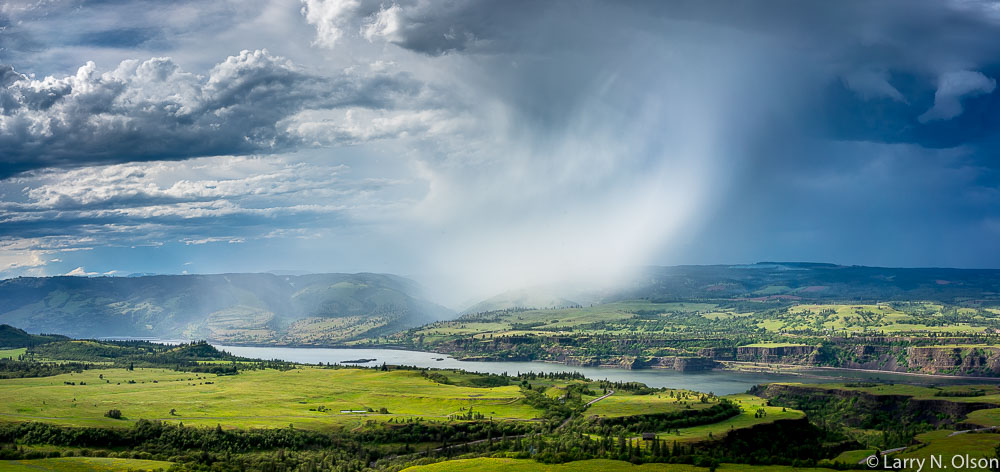 Hello Hikers!
The Columbia River Gorge is looking really good this year with all of our spring rain. The recent May monsoon provided quite the show for myself and a friend as we hiked on the Rowena Plateau, at the Tom McCall Preserve.
This was a day of 87 degrees mid-day, overcast during the early afternoon and thunderstorms, lightening and hail as we hiked down from McCall Point. After all of that amazing weather, the sun popped back out and we could dry off before heading home.
The trail up to McCall Point was freshly cut and made for stable footing. Many thanks to The Nature Conservancy and Friends of the Columbia Gorge for all of their diligent efforts to keep the Gorge... gorgeous!

In fact, did you know that there is a plan to make a 300 mile loop trail through the Gorge to connect Portland to The Dalles and back on the Washington side to Vancouver. This is part of a plan spawned by the Chinook Trail Association to honor the legacy of Native Americans.
Getting back to our hike, the cloud formations over us and Mt. Hood were quite spectacular and in some cases, surreal. All in all, it was yet another magical day of hiking in the Columbia River Gorge.
Hope to see you at my studio/gallery for the Mt. Tabor Art Walk, May 20-21.
---