Photographer helped save Opal Creek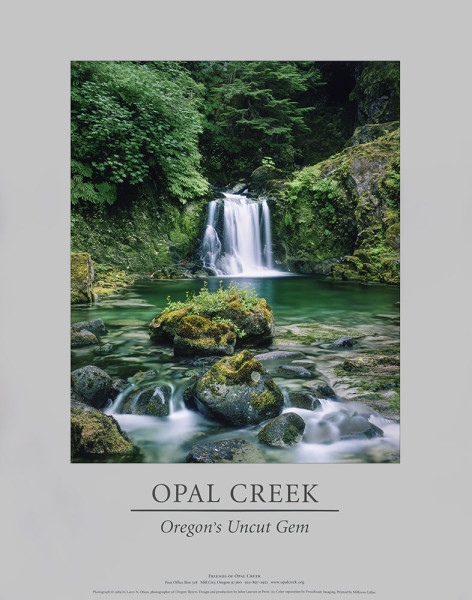 The Statesman Journal today published an article on how my 1989 photograph of Opal Creek was instrumental in designating the area as the Opal Creek Wilderness and Opal Creek Scenic Recreation Area (over 34,000 acres combined).
Zack Urness writes..."Olson bushwhacked up Opal Creek for five days, making pictures as he went…. the picture he captured was, by every measure, stunning."
The article recounts how my image was used by political figures and environmental groups – everything from magazine articles shown at legislative hearings, to a poster published by Oregon Natural Resources Council and Friends of Opal Creek – to preserve this gem-like watershed and surrounding old growth forest. Michael Donnelly, environmental activist stated – the photograph "was so stunning that people really realized what was at stake. It got many people to join in."
"...I basically had to wet foot it the entire trip."" Olson said.
"It has always been my goal to defend wild places through my photography, and I've been fortunate that other organizations have used my photos to protect wilderness." The article goes on to describe my commitment and passion for preserving and photographing wilderness and wild areas through my book "Oregon Rivers".
The article continues, "All the work came to fruition on Sept. 30, 1996 — two decades ago this year — when Oregon Sen. Mark Hatfield successfully passed legislation protecting the landscape as the Opal Creek Wilderness and Opal Creek Scenic Recreation Area."
Urness writes,"In the summer of 1989, the environmental activists fighting to protect Opal Creek were looking for the perfect picture". I was thrilled to have my photograph make a difference in preserving Opal Creek.
The Statesman article, written by Zach Urness, was also picked up by the national newswire and has appeared on OPB news.
---